The Recruit the Best™ system is a best-practice methodology for sourcing, assessing, interviewing and hiring the best sales candidates for your business.

It is a system which is built around recruiting people of high character as well as natural gifts and skills which offer predictable results in building a successful sales team.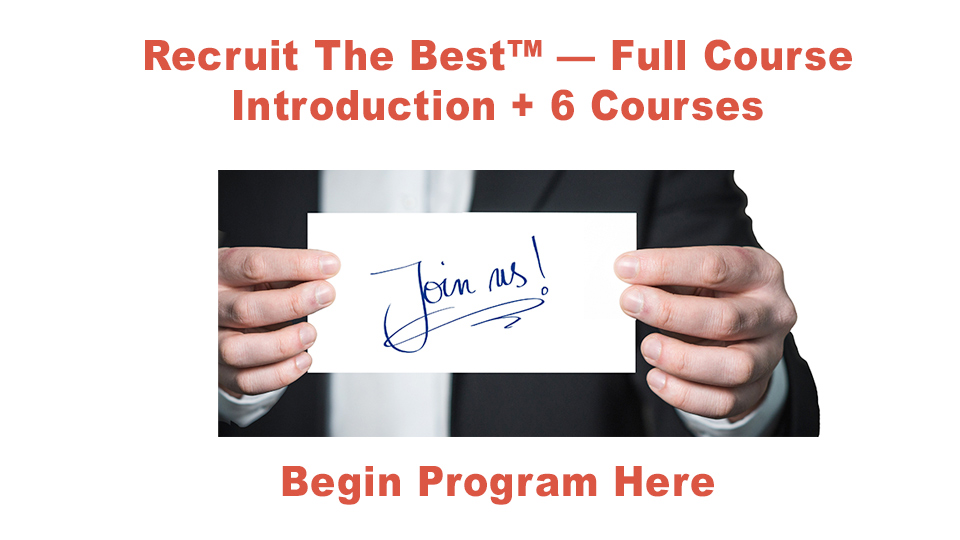 The price for this course includes the entire Recruit The Best™ system of six major courses plus this introduction. Once you pay for this course, the others in the package are automatically set up for you.

This introduction guides you as you prepare yourself for a new adventure in recruiting.

In addition to the six foundational courses in this bundle, you will also have other resources in this Introduction course. They include 1) A downloadable recruiting self-assessment (with video guide), 2) An E-book to download, "Five Ways to Increase Profits With a Recruiting System," and 3) a Slide-show video introduction to the various Recruit The Best™ resources you receive with the entire package.

The introduction course also contains three video lessons itself, taught by Sales Manage Solutions president Lance Cooper. These lessons help you get a good overview of the entire system and prepare you for a great experience as you work through the entire program.
Once you finish this introduction course, you will be ready to go through the six complete courses that are also part of this RTB System bundle. We recommend that you take them in the following order, following the timeline of hiring and your path down through the RTB funnel:
Course 1: How to Find the Best Candidates for Sales
Course 2: Screening Sales Candidates
Course 3: How to Recruit the Best™ With the CTS Sales Profile!
Course 4: Using the LSS Learning Style Assessment
Course 5: How to Interview for the Best High-Activity Salesperson
Course 6: How to Make the Best Hiring Decision
— Note — It is important to keep scrolling down this page to see not only the instructor bio but (below that) the curriculum for this Intro lesson as well as information about the six courses included in this package.

Best Wishes and Good Luck!